Genuine Terex spare parts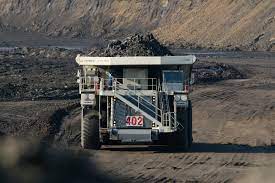 İBG MAKİNA İTHALAT İHRACAT VE DIŞ TİCARET ANONİM ...
Terex MT 6300AC,
introduced by the American manufacturer Terex in 2008, is also an ultra-class mining dump truck with a payload capacity of 400t. The vehicle was rebranded as Bucyrus MT6300AC, following the acquisition of the mining equipment division of Terex by Bucyrus in 2010. Terex MT 6300AC became a part of Caterpillar's Unit Rig line after Caterpillar's acquisition of Bucyrus in 2011.

The gross operating weight of the vehicle is 660t. The body of the truck is 7.92m in height and 14.63m in length. The vehicle is equipped with a four-stroke diesel engine, with 20 cylinders powering an AC electric alternator, which in turn supplies power to the electric motor fitted at each side of the rear axle. The rated power output of the engine is 3,750HP. The vehicle can move at a maximum speed of 64km/h.